"I'll Be Seeing You"
December, 2003
Chanukah Without You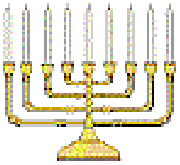 The mennorah has the candles lit
They are blinking merrily
It sits right on the countertop
For everyone to see.



The apartment is filled with aromas
Of all the foods you liked
Especially the potato latkes
You relished with delight



The gifts are tied with ribbons
And topped with pretty bows
I'm finished with all the details
As far as chanukah goes.


If I could have just anything
My Chanukah wish would be
To wake up in the morning
And find you here with me.


I reminisce holidays past
The joy and love we shared
With family dinners and lots of mess
Plus the envy of all our peers.
February, 2000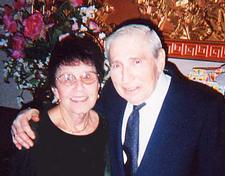 Those days are gone forever
But fond memories are still here
Of a totally united family
With whom holidays we did share.


Looking at your picture it's difficult to know
Why without any notice you just had to go
I know the day is coming when we will meet again
That day we'll be together and that day will never end.
Your loving wife,