Sinatra sang and Bernie lived his life
"My Way"
WAIT ..... download may be slow
( published August 8, 2000 )
Many families have internal problems and do not consider themselves as one unit. Our family was different, we enjoyed each other! Everyone admired us for the closeness we were so fortunate to have. Our immediate and extended families functioning as one was Bernie's greatest pleasure. He enjoyed this unique comradery for many years. Family holiday dinners were alternated between the Moms, often including a total of thirty five adults and children. The following photos are of very happy times.
Millennium Celebration
Wm. Penn Inn December 31, 1999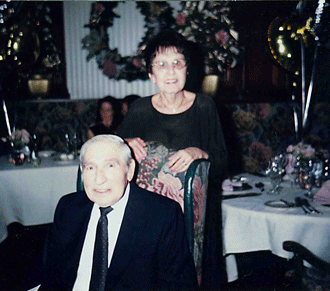 I was unaware in the short time we spent alone together in his hospital room that April morning, that he was nearing the end of his life ... sick but not a fatal illness! He needed ICU care and I would be there to support him. It didn't happen! For the first time in 58 years we did not have the opportunity to have any kind of farewell. He was totally sedated when I arrived a few minutes later until his death at 1:40 a.m. on April 10, 2000. He never opened his eyes again.
Did we have a perfect marriage ... are there perfect people? We were alike in many ways but we were also very different ... we often didn't agree but early on we learned that marriage is a full time job of sharing and, unlike many others, we worked to keep ours alive and well ... we succeeded! Someday we'll meet again, I don't know where and I don't know when but I know the time will come when we will meet again.
Bernie lived his life in accordance with his favorite motto:
"Happiness does not come from what you have, but
from what you are"
These 16 pages contain a synopsis of the 78 year DASH of a man who cared who shared and who was there for everything and everybody. A life to be remembered! A life to be proud of!!
| | | |
| --- | --- | --- |
| | 12th Armored Division | |
As a tribute to the memory of this man who cared, shared and was there for all people, a plaque was dedicated by the residents of the Condominium in which he resided and can be seen by everyone in their Social Room.
The photographs on this page belong to me, the gifs do not. They belong to the many talented people who developed them. By surfing the web I located them for my Web Site and I thank everyone for generously supplying them. However, if any of these are copyrighted please let me know and they will be removed immediately.